Jean Grandbois
Welcome to my home page!
Who is this guy?
I'm a programmer, with 25+ years experience in software development, geographic information systems, and database design and programming. In 2012 I went mobile, and have been developing mobile web apps. I am a member of Mensa Canada. And, after some recent genealogical research found some Algonquin blood 8 generations back, I am now also a member of the Voyageur Métis! Currently living in the badlands of Alberta, Canada, with my better half, Judith Lemstra.
For more info on my professional background, please visit my company site:
On the fun side, while living in Ottawa I managed the Ottawa Social group for over a year, growing its membership from 500 to 2000 members. I also formed the Ottawa Social Singers, a group of volunteers who performed for seniors at retirement homes. Here is one of our performances: (I'm in the Elvis suit :) )
Ottawa Social Singers - Suspicious Minds.
I also wrote a novel a while ago:
Mental Distortions - An action-romance novel set in Tibet
"... it is a must read."
"... I was riveted to this book from beginning to end."
Midnight Reviews
"...strong characters and a lot of plot; it really is impossible to put down.""
"... an exciting tale that will keep any reader hooked."
Bryn Colvin, eBook Reviews Weekly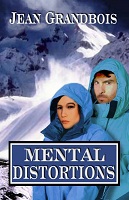 Mental Distortions is a fast-paced tale of dangerous pursuit, unspeakable atrocities, and love. Set in modern day Chinese-occupied Tibet, Mental Distortions centers on a Tibetan woman's struggle to expose a sinister conspiracy. With the help of a Canadian hiker, she must outwit the authorities trying to capture her, in order to expose the secret that threatens her people's future. Tibetan culture, history and a cold, desolate landscape form a colorful backdrop to this story. The novel finely details modern day Tibet's rich culture, blending adventure, romance and intrigue to produce a thrilling, and occasionally humorous, tale of survival against all odds.
Buy the book:


Have some questions?
Thanks for visiting!